What is the Demo Club Event?
It's that time of year again! Our annual Demo Club Event is (almost) here! It all starts Thursday, November 4th at 12pm ET until Sunday November 7th, ONLINE ONLY! This is your chance to save up to 40% on gently-used demo clubs from top brands like TaylorMade, Callaway, Cobra and more!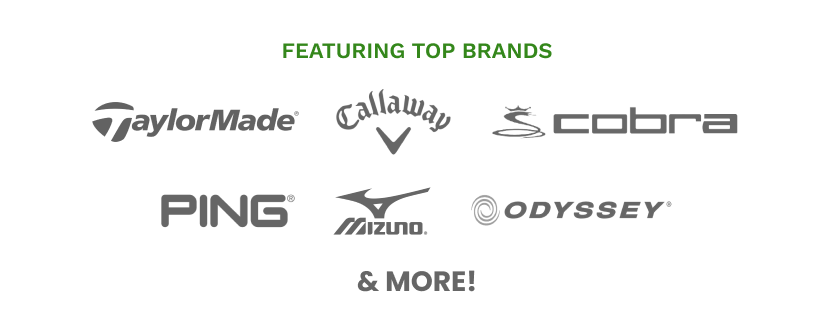 What is a Demo Club?
A demo club has been previously used by another golfer. It may have been used outside, as a rental set, as a test club in a retail store, or to perform custom fittings. The condition may vary from nearly new to normal signs of wear (blemishes, ball-marks, worn grips, etc.) but rest assured, the club will perform like new!
What to expect in your demo club?
We have Canada's largest selection of demo clubs from the top brands in golf and every single one is inspected by our expert staff to ensure your club performs its best. Before any demo club is shipped it will be cleaned so you can shop with confidence and receive your new club(s) in the best condition possible!
Frequently Asked Questions
A demo golf club has been previously enjoyed by another player(s). It may have been used outside, as a rental set, at a retailer as a test club in the simulator, to perform custom fittings, or at vendor sponsored events. The condition of these clubs can range from nearly new to showing normal signs of wear for a used-club (e.g. blemishes, ball-marks, minor scratches, worn grips, etc.). Demo clubs do not come with a headcover or wrench, however they are covered by a one (1) year vendor warranty.
Golf Town's Demo Club Event features current models of "demo" golf clubs from the best brands in golf at up to 40% off the original MSRP.
Demo clubs will NOT be available for sale in Golf Town stores for this year's event. Out of an abundance of caution for our customers and staff, this event will be offered online only. We have also increased the limit of any one (1) model purchased online to three (3). This is to ensure the best possible assortment is available to our customers all weekend.
Demo clubs may be returned or exchanged at any Golf Town store or by mail to one of our Return Processing Centre within 30 days from the date of purchase (please see the back of your packing slip for more details).
Note: Golf Town stores will not have any demo club inventory.
The inventory of demo clubs for this year's event are in remarkable the best condition we have seen in recent years, however please remember that most demo clubs will show visible, cosmetic signs of use including but not limited to blemishes ball marks and grip wear. All demo clubs sold in the Demo Event have been inspected by one of our golf club experts to ensure it performs like new.
All demo clubs offered in the Demo Event carry a one (1) year warranty from the date of purchase.
Each demo club has been cleaned and inspected by a Golf Town club expert before being shipped to certify that it will perform like new
Most orders are processed within 2-4 business days and arrive at their destination within 7-10 business days once the order has been shipped, however shipping times will vary depending on the carrier and final destination. Once your order is picked up by a carrier (FedEx or FleetOptics) you will receive a shipment confirmation email with tracking number that you can use to conveniently track your order online.
Headcovers and wrenches are not included with the purchase of demo golf clubs, however headcovers are available to purchase on golftown.com separately should you need one. Note: most wrenches are now universal (with Srixon being the only exception) so as long as you have a wrench, it should work with your new demo club purchase.
†Demo Club Event discounts are between 20-40% off the original price at which the products are sold.